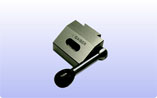 Main Clamping Devices Model: MCD01 and MCD02

The patented main clamping device mounted on the machine table provides the base reference element and true zero positioning required for precision location.
The MCD01 and MCD02 attach to the table using the rail for alignment and remain in the machine providing repeatability. The built-in or removable torque handle provides the exact torque for repeatability and is made of all stainless steel components for a long trouble-free life.
The MCD02 has a removable torque handle for machines with no tank clearance.
Features:
Repeatability of 0.000080 inch (2 micron)
Fast loading / unloading
Versatile, can be quickly repositioned
MCD01/MCD02 Dimensions
L = 2 3/4 in. (70mm)
W = 3 in. (76mm)
H = 1 3/4 in. (44mm)